B2B 2016-2017 - Meet the travel market professionals in CIS
22 Jul 2016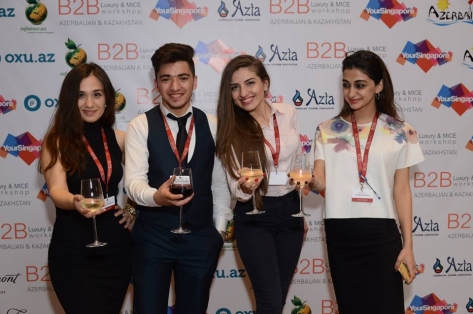 The annual B2B Luxury & MICE Workshops celebrates its 5th Anniversary for the organization of this prestigious event in Almaty, Kazakhstan, and Baku, Azerbaijan in Mid-April, 2016. Workshop participants included the leading luxury travel companies and tour operators in both markets. They met with a variety of international suppliers including luxury hotels, DMCS, fashion outlets as well as regional and national tourism boards. The Singapore Tourism Board was the workshop sponsor this year.
Around 40 international exhibitors and over 60 local buyers in each city took part in the 'double' workshop this year, concluding around 1,050 meetings during the 2 days of meetings. Workshop participants benefitted from a pre-scheduled appointment system, which allowed them to set more than 15 meetings per day and so was extremely efficient in terms of time and cost effectiveness. There was a wide range of International exhibitors at the B2B Luxury & MICE Workshops were mainly of European origin and included a wide range of new companies such as Galeries Lafayette and Rail Europe as well as regular participants such as Relais & Châteaux, Duetorrihotels (Italy) and Barceló Hotels.
The Diamond Cocktail was the most exciting moment of the event and was sponsored by the famous Amsterdam diamond factory, Gassan Diamonds. They served champagne to the participants, one of whom found a real diamond, worth more than 1,000 euro in his champagne glass.
SAVE THE DATE 2017:
SAVE THE DATE!!
B2B Workshop Almaty — February 14, 2017
B2B Workshop Baku — February 16, 2017
B2B Workshop Tbilisi (NEW!) — February 18, 2017
Don't miss the pleasure and the fun to be with us again!